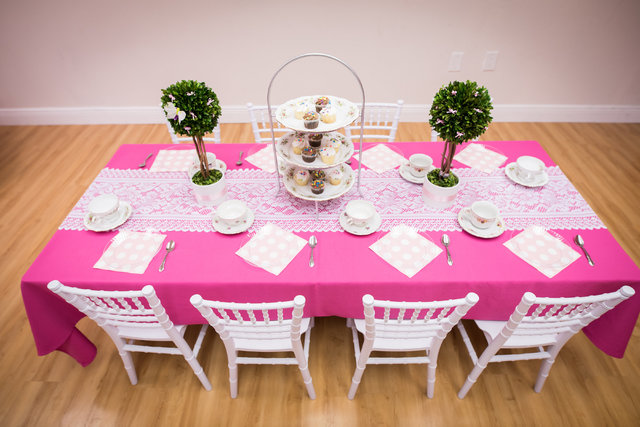 Tea Party Table Items
This package includes all the items you will need on each table of 8 guests. In the quantity, you choose the number of tables you will be setting.
The picture does not show everything that is included. The list below is comprehensive.This package is designed for a table that seats 8 guests, so for example if you have 5 tables that seat 8 guests you would choose a quantity of 5 of these packages to add to your cart. One of these packages per table of 8 guests.
PLEASE NOTE: THIS PACKAGE IS DESIGNED TO GO ALONG WITH THE "TEA PARTY GUESTS" PACKAGE. THE TEA PARTY GUESTS PACKAGE CONTAINS ALL THE INDIVIDUAL ITEMS YOU WOULD NEED FOR EACH PLACE SETTING FOR EACH GUEST.
THIS package contains all the items you would need for the guests at each table to share such as teapots and a triple tier server for finger sandwiches and pastries.
Included per table in this package is the following:
2 teapots
2 Sugar/Creamer sets
2 sugar cube tongs
1 triple tier server with 3 dinner sized floral plates to be used to display your finger sandwiches, cookies, pastries, etc.
3 serving tongs
1 wooden tea box to hold your tea bags
2 butter/jelly Spreaders and 2 small floral plates to hold the butter or jelly.
Please also note that you may wish to add on items such as: Tea Cups, plates, sugar spoons, champagne flutes, candelabras, linen, lace runners, tables, chairs, or teapot vases for flowers depending on your needs. This package just includes the basics you would need for a table of 8 guests, not individual place settings. That is our "Tea Guest" package.